Back to Tenrec Resources and Information
Tenrec Species Profile:
Montane Shrew Tenrec (Microgale monticola) Goodman & Jenkins, 1998
by David G. Kupitz, Bünde, Germany. Published March 30, 2020. Updated April 11, 2020.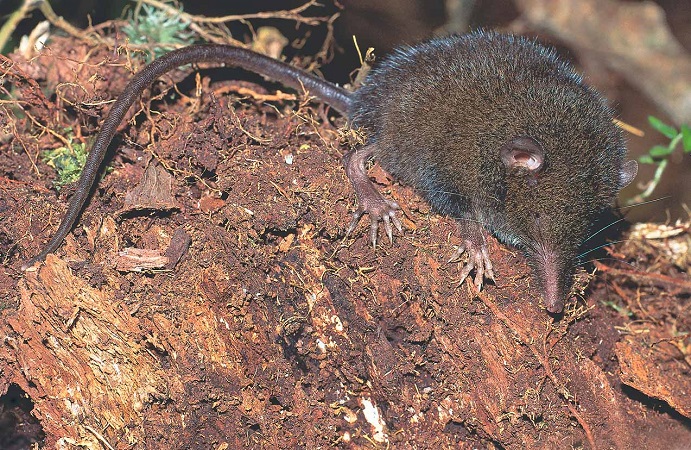 Montane Shrew Tenrec (Microgale monticola) - Anjanaharibe - Madagascar - Copyright Harald Schütz
Taxonomy
| | |
| --- | --- |
| Family: Tenrecidae | Tenrecs |
| Subfamily: Oryzorictinae | Furred Tenrecs |
| Genus: Microgale | Shrew Tenrecs |
| Species: Microgale monticola | Montane Shrew Tenrec |
Other English name: Mountain Shrew Tenrec
Malagasy name: none known
Description
The species is a medium-sized shrew tenrec with a tail length of 105 to 113 mm and a head-body length of 81 to 92 mm. Its weight is approximately 15.5 (13.5 to 17.5, n=5) g. The upperparts are dark brown and slightly tinged with grey. The underparts are dark brown with a silver-grey and buff wash. The ears are large. The tail is dark brown dorsally, light brown ventrally and often ends in a white tip. The paws are blackish brown. The forepaws have long claws.
Similar species
The species is similar to M. thomasi, but the two species are differentiated easily by their external measurements. They do not appear to occur in sympatry.
Behaviour and Natural History
No details are known.
Reproduction
No details are known.
Distribution

Range of Microgale monticola. IUCN Red List of Threatened Species, species assessors and the authors of the spatial data. / CC BY-SA (https://creativecommons.org/licenses/by-sa/3.0)
The species has only been recorded from northern Madagascar, specifically in the region of Marojejy and Anjanaharibe-Sud. It occurs between 1,500 and 1,950 m of altitude.
Habitat
Microgale monticola occurs in evergreen montane rainforests.
Conservation Status
Classified as Vulnerable (VU) by the IUCN because it is known from only four locations at a very narrow elevational range on two massifs in northern Madagascar. Threats to the habitat exist, especially from illegal logging, even in the two protected areas in which it occurs (Marojejy and Anjanaharibe-Sud). Additional threats to these sites are unsustainable firewood harvesting and gemstone mining. These threats could drive M. monticola towards extinction in a short time period.
References
SOARIMALALA, V. & GOODMAN, S. M. (2011): Les petits mammifères de Madagascar - Guide de leur distribution, biologie et identification. Association Vahatra, Antananarivo, Madagascar. 176 pages. ISBN 978-2-9538923-1-4.
STEPHENSON, P. J., SOARIMALALA, V. & GOODMAN, S. (2016): Microgale monticola. The IUCN Red List of Threatened Species 2016: e.T29462A97200712. https://dx.doi.org/10.2305/IUCN.UK.2016-1.RLTS.T29462A97200712.en. Downloaded on 30 March 2020.